Around Cap Macabou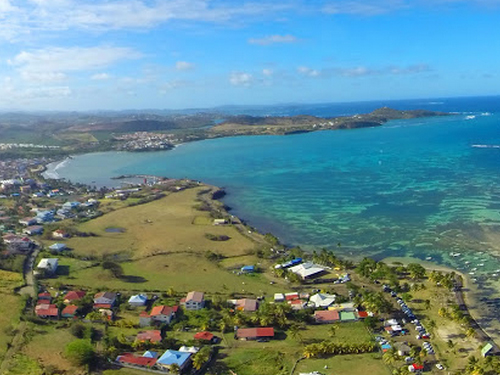 Le Vauclin
Le Vauclin is located between François, Saint-Esprit, Rivière-Pilote and Marin towns. As with other towns facing the Atlantic Ocean trade winds blow across it, in spite of its south-east position. Its name comes from Lord Vauquelin who owned sugar and tobacco plantations in the late 19th century. Unlike most other southern towns, Le Vauclin is a small quiet fishing village, yet the freshness of trade winds combined with permanent sunshine, coconut trees landscapes and a low-level laguna make it an ideal touristic spot. Le Vauclin has superb beaches and that of Pointe Faula is particularly popular as it is protected by a coral barrier and has white sands and mild waters. Vauclin also enjoys both xerophytic and mesophilic forests that spread from the coast up to the top of the Vauclin Mountain. This combined sea and mountain landscape has inspired many poets… Writers Monchoachi and Raphaël Confiant live there… Eugène Mona, singer and flute player, was born in Le Vauclin.
Further information on Le Vauclin's tourist office website:
www.vauclin-martinique.fr
[source:
www.paradismartinique.com
and
http://fr.wikipedia.org
]
---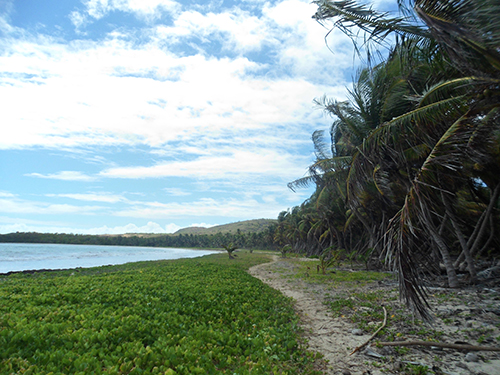 Petit Macabou and Grand Macabou beaches
The Macabou area has two beautiful wild beaches: Macabou Great Bay ('Grande Anse') with less easy access for the pleasure of nature lovers and Macabou Small Bay ('Petite Anse'), with easier access for family picnics. A nice walk named 'La Trace des Caps' starting from Macabou will take you to Cap Macré (see below).
[text translated and adapted from: www.zananas-martinique.com]
[source:
www.zananas-martinique.com
]
---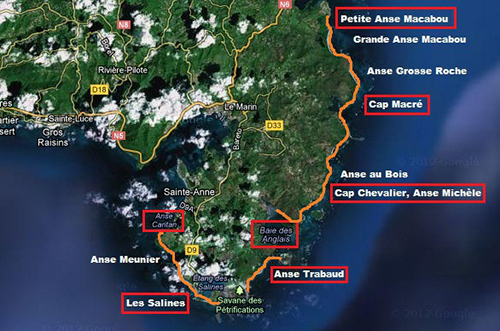 Trace des Caps walk
One of the greatest Martinique walks, which allows to discover all the extreme south of the island, from Macabou Small Bay ('Petite Anse Macabou') up to Caritan Bay ('Anse Caritan'). A lovely walk that offers superb panoramas and beaches. 28km long and lasting 12 hours (as indicated on signs), it is composed of 5 parts which are easy enough but as the path is fully uncovered, it is rather hot and it is strongly recommended to cover up and bring along sufficient supplies of drinkable water.
Level: Difficult
Duration: 12 hours
Length: 28km
Elevation gain: 400m
IGN map: 4503MT
[source:
https://camembertmartiniquais.wordpress.com
]
---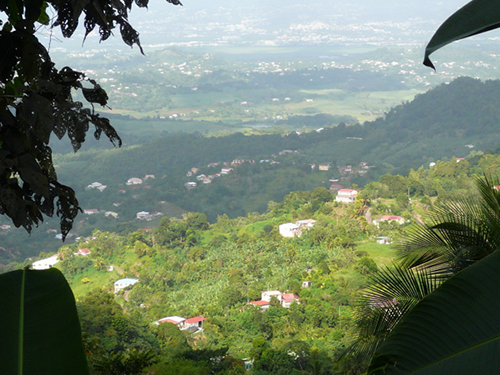 Vauclin Mountain walk
Vauclin Mountain is the highest point of southern Martinique, accessible via a short upward walk within luxuriant vegetation, offering splendid views over the east coast. Level: Easy
Duration: half day
Elevation gain: 150m
IGN map: Top 25 4503MT LE MARIN / ILE DES TROIS-ILETS
[source:
www.altituderando.com
]
---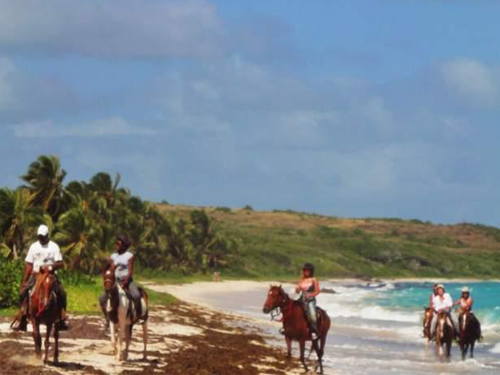 Anse Macabou Ranch
Located within splendid luxuriant vegetation, near the Regional Park of Martinique and by the sea, the ranch is within easy car access. Your guide Luc Labinsky will propose equestrian tours and activities that will meet your expectations.
Address: Le Ranch Anse Macabou, quartier Macabou, 97280 Le Vauclin
Telephone: 05 96 74 44 17
Mobile: 06 96 21 34 22
Email: lucabinsky@voila.fr
Website:
www.ranch-anse-macabou.com
---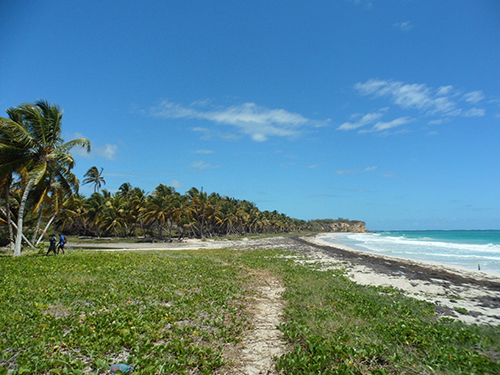 Macabou Equestrian Centre
Located on Cap Macabou's road (97280 Le Vauclin)
Telephone: 05 96 74 33 34
---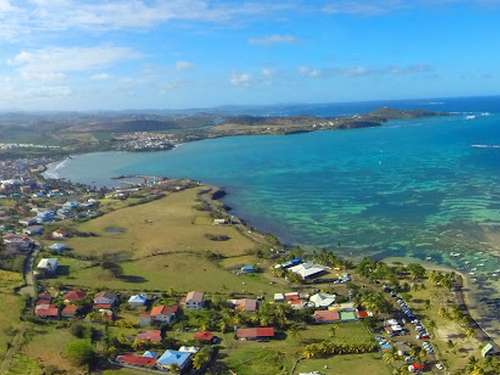 Pointe Faula and its nautical activities
Pointe Faula's beach has a vast swimming area that is away from mass tourism. Its white sands make it special and renowned while its low water level over 300 metres attracts families with small children. The whole area is protected by a coral barrier making the waters calm and mild (17° to 25° Celsius).
[text translated and adapted from:
http://fr.wikipedia.org/wiki/Pointe_Faula
]
---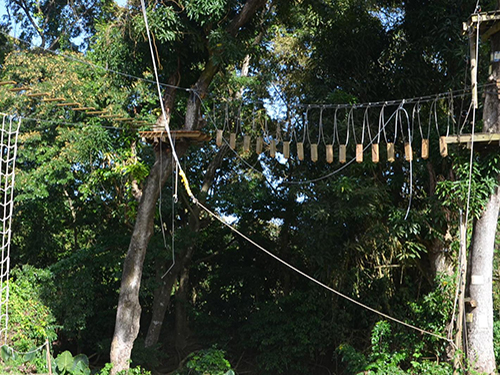 Lion's Parc: Acrobatic activities and Tree Trekking park
3 kinds of acrobatic trails, including 2 trails with continuous belay system, accessible from 2 years old 56 workshops
Inflatable games (slides and castles), wooden games and other (pétanque, table tennis, slackline, stilts)
Address: Lion's Parc, Domaine de Sigy, route du Stade, 97280 Le Vauclin
Telephone: 05 96 67 32 26
Website:
www.lionsparc.fr
Facebook:
https://www.facebook.com/lionsparc
---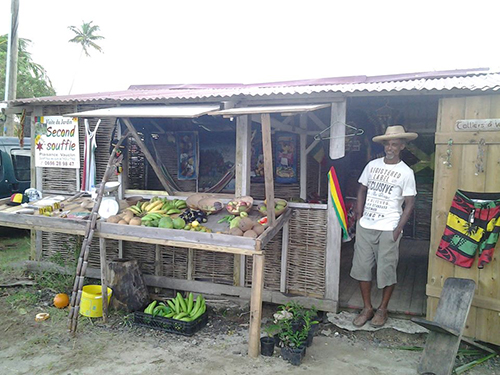 Le Second Souffle Garden
Discover this tropical garden and the gardener Étoile's good mood…
Address: Quartier Plaisance, 97280 Le Vauclin
Facebook
https://fr-fr.facebook.com/pages/Jardin-Le-Second-Souffle/244818868900230
Mobile: 06 96 28 98 47
Email: lejardinsecondsouffle@gmail.com
---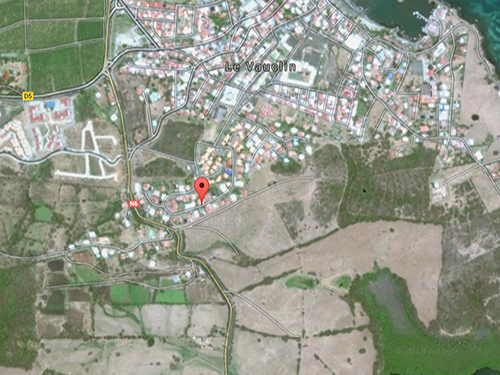 Habitation Sigy's archeological site
Le Vauclin's countryside is scattered with archeological sites. Many sites or site indicators from the amerindian period have been located along the coast. The colonial period left deep marks around the town, as numerous 'habitations' were found. The first occurrence of the 'Sigy' site was on a map drawn by René Moreau du Temple in 1770: colonial buildings are represented under the name 'Habitation de Luines'. The latter appears as two separate entities. The first, a habitation with a mill and most likely a slave area, is linked to the second via a path bearing the same toponym and where a building and its annexe appear.
[source:
www.lebatondeparole.com
]
---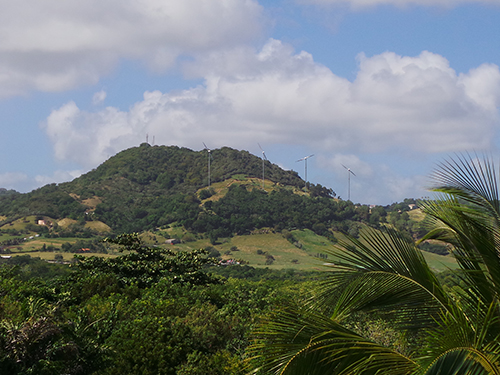 Morne Carrière's windfarm
The first in Martinique…
(seen from the back of hotel Cap Macabou)
---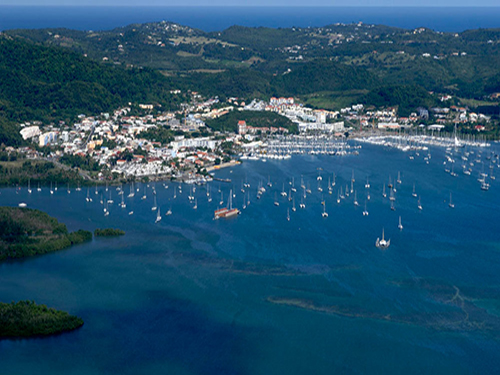 Le Marin and its Marina
Located in the south of Martinique between the towns of Rivière-Pilote, Sainte Anne and Vauclin, Le Marin, one of the best known seaside towns, offers a variety of activities including cultural events, nautical sports, traditional sailing, walks and white sand beaches. Spread over 3,151ha, Le Marin has 8,900 inhabitants. Among the biggest marinas of the Caribbean, the quality of its infrastructures and services make it a privileged leisure spot which was classified 'nautical station' in 1998. The town also benefits from historical and patrimonial assets such as its 17th century church, one of the oldest of Martinique, together with a rich wildlife and flora (Morne Aca at Macabou is a protected forest zone that is looked after by Conservatoire du Littoral and Office National des Forets). Further information on Marin's tourist office website:
Further information on Marin's tourist office website:
http://ot-marin.com
[source:
http://ot-marin.com
and
www.antillesexception.com
]
---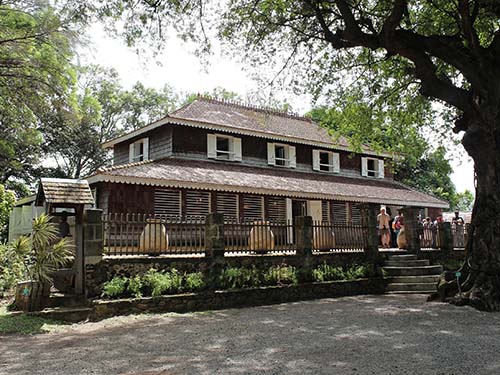 Clément Habitation at Le François
Clément Habitation owes its notoriety to its maintained industrial activity, i.e. sugar cane farming, rhum making and maturing, upon a cultural and patrimonial site. This double activity i.e. industrial and cultural, makes it a lot more than a business or a museum. A rhum house, a patrimonial domain and a modern art centre, The Clément Foundation (la Fondation Clément)...
Website: www.habitation-clement.fr Habitation Clément, Domaine de L'Acajou, 97240 Le François, téléphone 05 96 54 75 51
[source:
www.habitation-clement.fr
and
commons.wikimedia.org
]